Lake Volta: Death Trap Exploits 49,000 Child Labor Slaves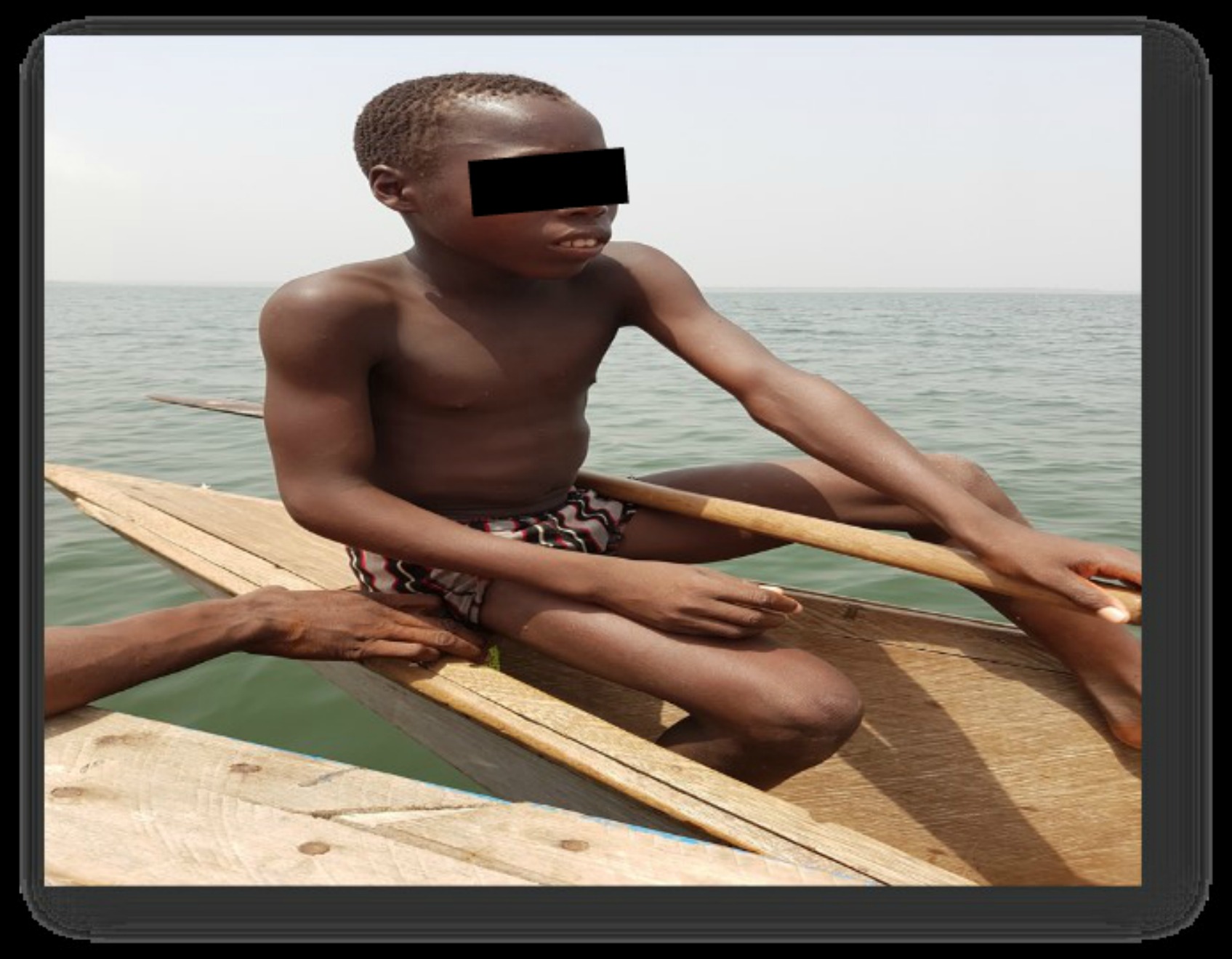 In February 2017, ENA End Modern Slavery rescued 12 children from Lake Volta. Of this number, 10 are boys and 2 are girls. These children range in age from 6 to 14 and are all victims of human trafficking and forced labor slavery. They were found working against their will in precarious and dehumanizing conditions.
Lake Volta, by artificial surface area is the largest reservoir and lake in the world. The lake is formed by the Akosombo Dam, which, was completed in 1965 to provide hydro-electric power for Ghana. They dammed the Volta River just south of Ajena and created a lake extending upstream from the Akosombo Dam to Yapei, beyond the former confluence of the Black Volta and White Volta rivers.
Today, Lake Volta has become a death trap and hub for torturing and exploiting vulnerable children through forced labor in the fishing industry. Currently over 49,000 children are working in slavery on  the lake. Of this number, 21,000 of them are victims of hazardous labor  which is defined as '…work that is dangerous to the lives of the children.' [ILO, 2013]
Children as young as 6 years old are child labor slaves on Lake Volta. They start their 17 hour day at 4am with inadequate clothing to protect them from the elements and very little food and water. 
On the Lake, boys are typically made to paddle the canoe, operate the outboard motor, cast down fishing nets, pull up the fishing nets after a catch, cast water out of their leaky canoes so they can stay afloat and other hazardous work to operate their slave master's fishing business. The most dangerous aspect of the work is when children are forced to dive deep under the Lake to remove a trapped nets entangled in the trees lying beneath the surface. Many children meet their untimely death or suffer serious injuries as a result of the diving. Sadly, when a child is killed on the lake, they are then used for bait.  We can not sit back and allow these children to continue to be subject to this inhumane and horrific torture!
These children also have no chance to go to school and all profits from the fish they catch go to their slave masters. Most of these slave masters use the money earned from the abuse of these children to live a lavish lifestyle and sponsor their own children's education from elementary school through University. This makes modern slavery a critical social injustice in Ghana that needs to end. We believe that every child deserves the opportunity to get an education and achieve their dreams. 
In August 2016, there was a boat accident near the Brong Ahafo Region side of Lake Volta. The accident was caused by a wooden fishing boat running over a tree stump in the Lake – this is a common occurrence and cause of many deadly accidents on the Lake. Lake Volta is home to the world's largest underwater forest. These trees are hazardous in that they sink boats and cause fishing nets to get entwined in them. Both incidences have proven to be deadly to young children. This accident, like many others, resulted in the untimely death of  all 17 women and children on board the boat. [Ghana Navy, 2016] 
Although our strategy at End Modern Slavery is focused more on prevention, education and advocacy, we cannot ignore the lives of these children working in life-threatening conditions. Once we learned about the slavery conditions of these children, we knew we needed to act. This is what drove us to rescue and protect the aforementioned 12 children. We will not allow those who are already victims to die or suffer in slavery if we can get engaged and make a difference.
Thank you to Challenging Heights and the Ghana Navy and Police Departments for aiding us in these rescues and to all of our donors. With your continued support we can not only raise awareness about the atrocities being committed on this lake, but we can end it!
Adapted from a Special Report by:
David Kofi Awusi, Director of End Modern Slavery; 31:03:2017