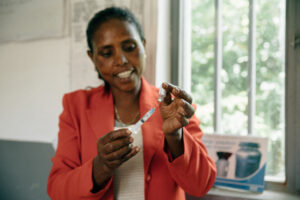 We have worked closely with the Ethiopian Ministry of Health to construct 15 health posts in regions where the most vulnerable communities are located. Often, there was no access to medical care prior to our arrival. Women gave birth at home and the incidence of childhood mortality was extremely high. Today, these facilities are located close enough to the villages to reach on a donkey or on a small motorized tricycle.
Government extension workers treat minor illnesses and provide immunizations. As a result of ENA's involvement, the Ethiopian government has greatly expanded its support to these communities and now provides nurses and physicians, as needed, in clinics. The extension work from the health posts also supports the local communities with nutritional and dietary training, improved crop and planting techniques, and hygiene and sanitation education and training.
In Sierra Leone, the Lyn Clinic has become a nationally recognized model for providing high-quality health care. A full-range of medical, laboratory, pre-natal and well-baby services are available, greatly improving the health and well-being of adults and children in Bo.